Dr. Yogeshwar Singh Dadwhal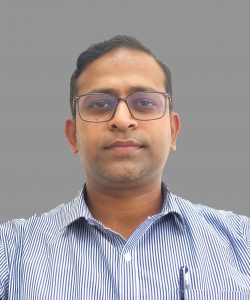 Dr. Yogeshwar Singh Dadwhal received his M.Tech. Degree in Instrumentation with Distinction from NIT Kurukshetra and Ph.D. degree with Distinction from CSIR-Academy of Scientific and Innovative Research at CSIR-CSIO Chandigarh. He has worked in two different R&D projects, named Underwater Autonomous Vehicle (UnWar) as PA III in collaboration with CSIR-NIO Goa and Collaborative digital diagnosis system (CollabDDS) as Scientist B in collaboration with AIIMS New Delhi and NIC New Delhi. After his graduation B.Tech. in Electronics and Communication Engineering, he served as System Engineer at Infosys Ltd for three years. With years of Interdisciplinary experience, he is presently serving at Defence Institute of Advanced Technology (DIAT), Girinagar, Pune, as Assistant Professor in the Department of Applied Mathematics. Before joining DIAT Pune, he served as Assistant Professor for three years at Shri Mata Vaishno Devi University, Katra J&K. His interests include machine learning, data science, computer vision, imaging, visible, infrared, terahertz, medical, mathematical modelling, computational instrumentation, Narrow Band IoT. He has multiple SCI Publications and is an active IEEE member. He is also a reviewer of Machine Vision and Applications (Springer).
B.Tech: Jaypee University of Information Technology, Solan HP
M.Tech, NIT Kurukshetra
PhD: Academy of Scientific & Innovative Research (AcSIR) at CSIR-CSIO Chandigarh
Machine Learning & Deep Learning
Data Science
Computer Vision and Image Processing
Computational Instrumentation
AI for Defence & Medical Applications
DIAT, Assistant Professor, 2022-Present

TEQIP-MHRD, SMVDU, Assistant Professor, 2018-2021

CSIR-CSIO, SCIENTIST (CollabDDS) & PA III (UnWAR), 2013-2018

INFOSYS LTD., SYSTEM ENGINEER, 2008-2011
Dadwhal, Yogeshwar Singh, Satish Kumar, and H. K. Sardana. "Data-driven skin detection in cluttered search and rescue environments." IEEE Sensors Journal 20.7 (2019): 3697-3708

.

Dadwhal, Yogeshwar Singh, Satish Kumar, and Harish Kumar Sardana. "Supervised framework for top-down color interest point detection." SN Applied Sciences 2.8 (2020): 1-13.
NIT Rourkela
CSIR-CSIO Chandigarh
AIIMS New Delhi